Interproximal Cement Removal with ContacEZ


The two serrated strips in the ContacEZ Restorative Strip System ensure you can completely clean out excess cement trapped in the interproximal space after crown seating.
First, remove all visible excess cement with an explorer. Then, slowly and gently insert the White Serrated Strip into the interproximal space, working the strip down while passing it through the contact buccolingually to minimize the use of vertical force. As the blade passes through the contact, the fine serrations on its edge simultaneously cut and pull out trapped cement (Fig. 1). Both the White and Blue Serrated Strips have serrations on both the top and bottom of the blade, so any cement higher up on the contact surface that may have been missed can be cut away with the top of the blade as it is removed. Repeat as necessary, using the natural flexibility of the strips to angle the blade around the surface of the crown, until cement removal is complete.
If large volumes of cement are trapped interproximally, or if some stubborn cement remnants are detected on an X-ray after the cement has hardened, the same technique can be applied using the Blue Serrated Strip (Fig. 2). The thicker, sturdier blade of this strip makes it ideal for heavy-duty cleaning, while the thinner White Serrated Strip can more easily flex and conform to the contours of the crown to ensure complete cement removal.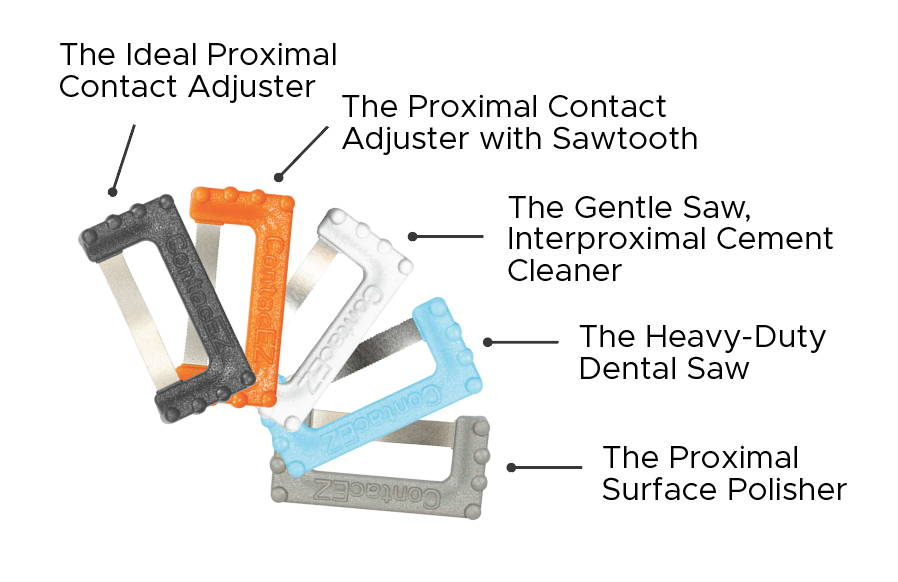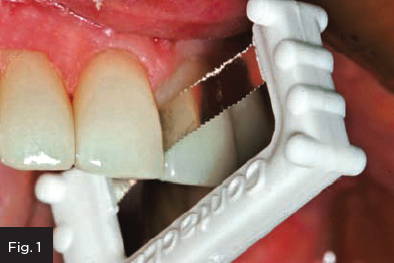 The serrated edge naturally pulls cement out of the interproximal space as it passes through.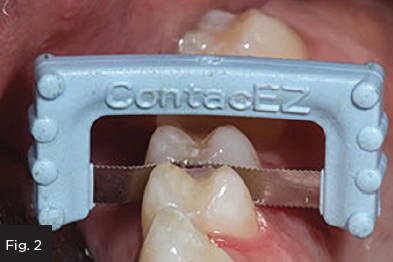 The blue serrated strip is thicker and sturdier, making it tough enough for heavy-duty cement clean-up.
This article was originally published in the Clinical Life™ magazine: Winter 2021 edition
Clinical Life™ magazine is a premier periodical publication by Clinical Research Dental Supplies & Services Inc. Discover compelling clinical cases from Canadian and US dental professionals, cutting-edge techniques, product insights, and continuing education events.
Access all previous publications, request printed editions, or subscribe to our newsletter today.
Join our thriving community of dental professionals and elevate your practice to new heights!