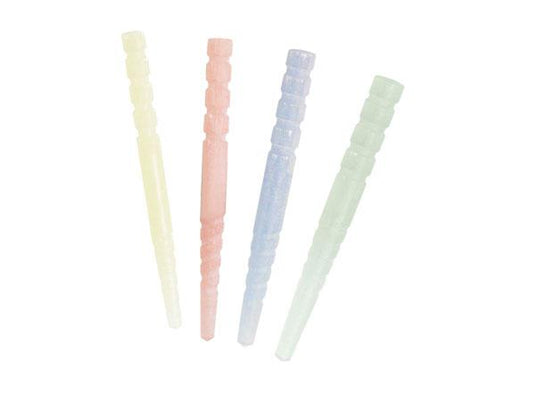 Product Details

Clinical Technique

Technical Details

Video

Testimonials

Configurations

Resources

Accessories
Macro-Lock® Post Illusion® X-RO® is a fibre-reinforced endodontic post designed for maximum retention with any type of cementation or resin build-up and is enhanced with unique radiopacifiers.The post has a tapered apical segment and a parallel coronal section. In addition, the surface of the post is roughened with controlled specificity to a highly micro-mechanical surface for excellent bonding and long-term retention. Available in six sizes, the intrinsic post colours match the drill markings and help the clinicians distinguish one size from another. With this Illusion Technology, the color disappears within seconds at body temperature, but the color can be reconstituted, if necessary for re-treatment, within seconds. Other features and benefits include:
Patented and exclusive X-RO fibres provide unparalleled flexural strength
Macro-retentive undercut features on apical and coronal sections provide maximum retention
Two flat sides on coronal section prevent rotation of core
Parallel coronal section offers maximum diameter for strength, and surface area for adhesion
Patented Illusion colour-change technology eases size identification and removal
Superior fatigue resistance and mechanical properties
Can be a-traumatically removed in minutes
Posts and drills are provided in hygienic "blister" packaging
MacroLock
Facial view of the initial case showing a failed PFM crown on tooth #9 (endo treated).

After crown removal, tooth preparation, and root canal prepared to receive a #1 Macro-Lock X-RO post, the canal is etched for 20 seconds, rinsed, and lightly dried with paper points.

Bonding agent is applied and light-cured.

A dual-cured resin cement is placed inside the canal from the bottom to the top avoiding trapping air bubbles.

Macro-Lock X-RO Post is inserted into the resin cement and light-cured.

A core buildup is fabricated using the same material selected for cementation.

Facial view. The colour of the Macro-Lock Illusion X-RO post has disappeared to ensure esthetics are not compromised.
Macro-serrations and anti-rotation features interlock with the cement and core material to increase retention.
Flexural strength of at least 1800 MPa makes it the strongest fiber post on the market.
Intrinsic color-coding disappears when seated, re-appears on demand, if removal ever becomes necessary.
Tapered shape enhances adaptation to the root anatomy and conserves dentin.
Incorporates color-coding for easy identification before or after placement – posts match the drills.
Atraumatically removable in minutes.
Translucency provides esthetics and expedites the dual-cure cementation procedure.
Corrosion-free and biocompatible.
Overview of the RTD Macro-Lock Post Illusion X-RO system complete with features and benefits as well as the step-by-step clinical technique.
"I have placed over 500 Macro-Lock posts without a single failure. The tapered shape facilitates minimal removal of tooth structure and ensures a minimal amount cement, which minimizes polymerization shrinkage and micro-leakage. Superior physical properties, along with macro and micro-retention, and anti-rotational features make this my post of choice for extensively broken-down teeth."
Dr. Manfred Friedman
"I have used RTD fiber posts since 1997 and do not have cases of breaking or failure in my treatments."
Dr. Sandra Costa Zamboni
Macro-Lock Illusion X-RO 10-Pack Refills:
#1 Post (Item Number: 591411)
#2 Post (591412)
#3 Post (591413)
#4 Post (591414)
#5 Post (591415)
#6 Post (591416)