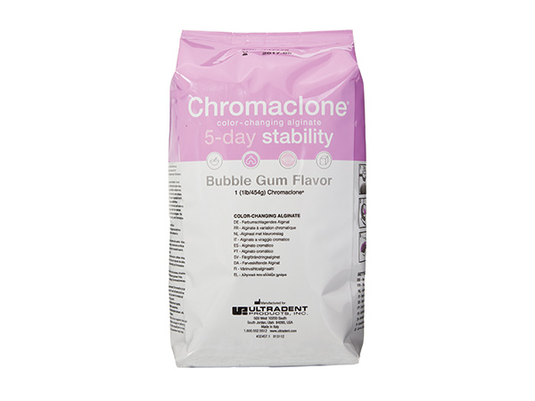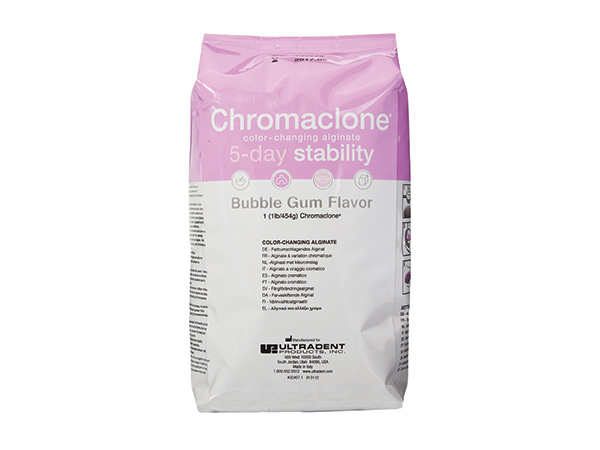 Product Details

Video

Configurations

Resources
IChromaclone™ 5-Day Stability Alginate is a fast setting, colour changing, Class A, Type 1 sodium alginate that offers a full five days to pour your impressions.
To ensure dimensional stability for up to five days wrap the impression with a damp paper towel and store in a sealed plastic bag at room temperature (23°C/73°F). Other features and benefits include:
Formulated to be stiffer than conventional alginates to increase accuracy
Fast Set changes colour
Extra Fast Set is ideal for sensitive patients
Great Bubble Gum flavour
Dust-free mixing
Silicone-like consistency
Watch this step-by-step technique using alginate, LC Block-Out resin, and a vacuum former to create custom whitening trays.
Chromaclone 5-day Kit (Fast Set) contains: 1lb bag of Chromaclone 5-day, plastic container, water cup, scoop
Chromaclone Ortho 5-day Kit (Extra Fast Set) contains: 1lb bag of Chromaclone Ortho 5-day, plastic container, water cup, scoop
Chromaclone 5-day Refill (Fast Set) contains: 1lb bag of Chromaclone 5-day
Chromaclone Ortho 5-day Refill (Extra Fast Set) contains: 1lb bag of Chromaclone Ortho 5-day