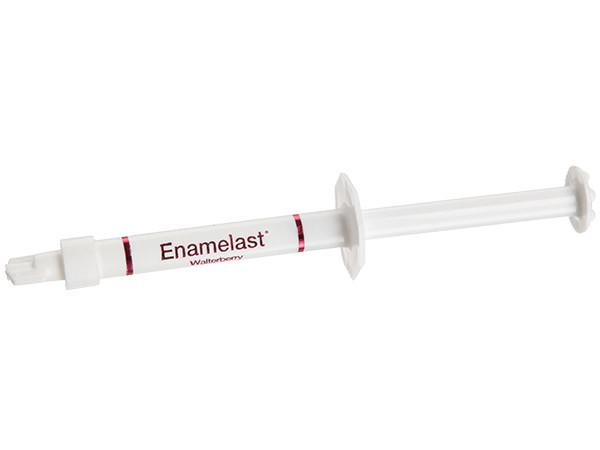 SAVE $30 on 1 Unit Dose 200-Pack, SAVE $50 on 2+

SAVE $20 on the Walterberry 50-Pack (Item Number: 704518)

SAVE $15 on the Walterberry Syringe 20-Pack (704523)
Product Details

Clinical Technique

Technical Details

Video

Configurations

FAQ

Resources

Accessories
Enamelast™ is a highly effective fluoride varnish treatment with a smooth texture, pleasant taste, and nearly invisible appearance. Its unique formula is made with a patented adhesion-promoting agent for enhanced retention, providing superior fluoride release and uptake.
Enamelast 5% sodium fluoride varnish from Ultradent Products Inc. has been proven to have both a superior fluoride release and fluoride uptake. The specially designed natural, non-gritty texture and nearly invisible appearance of Enamelast ensures that patients leave it on longer for maximum fluoride ion absorption. Enamelast is available in two delivery options: unit-dose blister pack with a prefilled well and an applicator brush or a syringe and tip delivery system with enough varnish for two to four patients. Other features and benefits include:
Patented adhesion-promoting agent for enhanced retention
Superior fluoride release and uptake
Smooth, non-gritty texture
Flavoured, xylitol-sweetened
Nearly invisible appearance
Unit-dose applications available in Walterberry™, Cool Mint, Bubble Gum and Orange Cream flavours
Syringe application available in Walterberry flavour only
Indications for Use
Enamelast Fluoride Varnish is 5% sodium fluoride in a varnish carrier which produces a mechanical occlusion of the dentinal tubules in the treatment of tooth hypersensitivity.
Before Enamelast fluoride varnish.
Immediately after applying Enamelast fluoride varnish.
Non-Gritty and Nearly Invisible Appearance
Better Adhesion for Enhanced Retention
Convenient Delivery Options
Four Great-Tasting Flavors
Superior Fluoride Uptake
Superior Fluoride Release
Learn how to apply Enamelast fluoride varnish to achieve the smooth, nearly invisible appearance patients are looking for.
Ultradent Enamelast Fluoride Varnish available in the following 0.4 mL Unit-Doses:
Walterberry 50-Pack (Item Number: 704518) or 200-Pack (704528)
Cool Mint 200-Pack (704530)
Bubble Gum 200-Pack (704532)
Orange Cream 200-Pack (704531)
Walterberry 1.2 mL Syringe 20-Pack (704523)
Q: Can my orthodontic patients use Enamelast?
Enamelast is great for patients undergoing orthodontic treatment, especially those who currently have an orthodontic sealant on their teeth. When Enamelast is applied to a tooth treated with sealant, it recharges the sealant for even longer fluoride release.
Q: How often can Enamelast be applied?
The ADA recommends as often as every three months. Ultimately it depends on the patient's risk of developing caries.
Q: Is Enamelast gluten-free?
Yes. It's also free of peanuts, soy and dyes.