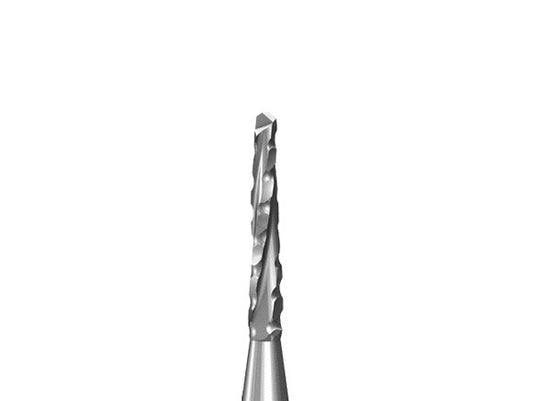 Product Details

Technical Details

Video

Configurations

Resources
Bone cutter tapered - Maximum cutting performance thanks to special ST-toothing.
The Komet H162ST bone cutter represents a new generation of oral surgery instruments and features new, razor-sharp, innovative ST toothing that demonstrates ideal cutting behaviour and provides the maximal control required for bone cuts during osteotomies, osteoplasty procedures, bone and bone-lid preparations, apicoectomies, and hemisections. Other features and benefits include:
Effective new blade design for oral surgery
Outstanding sharpness
Ideal cutting behaviour
Maximum control
Indications for Use
Bone cuts during osteotomies
Osteoplasty procedures
Bone and bone-lid preparations
Hemisections
Surgical extraction of retained teeth
Apicoectomies
Looking for a way to easily switch to Komet burs? Download and then print a Komet Bur Conversion Card here:
Shank Type
Maximum Permissible Speed Legend
The bone cutter H162ST is particularly effective and cuts with unrivalled, perfect sharpness. It heralds a new era – with outstanding sharpness, ideal cutting behaviour and maximum control – to the benefit of dentists, implant surgeons and oral and maxillo-facial surgeons.
H162ST.FG.016 (Item Number: 337451): 1-pack.