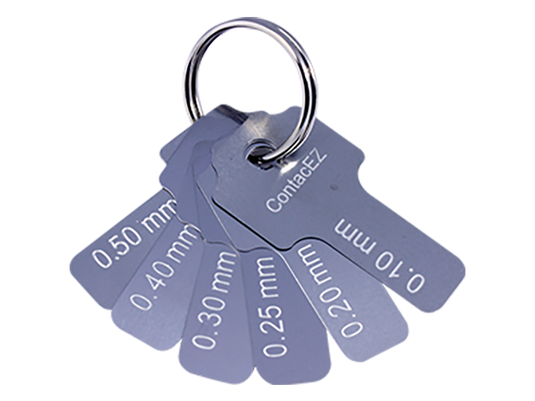 Product Details

Clinical Technique

Configurations

Resources
The ContacEZ® Incremental Thickness Gauge efficiently and accurately confirms the amount of interproximal enamel removal or contact reduction for orthodontic treatment. Measure the space prior to stripping to determine how much enamel to remove, and measure again when stripping is completed.
Made with high-quality stainless steel, it's autoclavable and reusable, safe and easy to handle, user and patient-friendly.
Preparation
The interproximal surface should be polished using the ContacEZ Gray Final Polishing Strip (Extra-Fine Diamond, Single-Sided) until all adjacent proximal surfaces are smooth in order to accurately verify the final gap dimension with the ContacEZ Incremental Thickness Gauge.
Method
After performing interproximal stripping with the ContacEZ IPR Strip System, select the proper Gauge prescribed for the treatment, and gently insert the Incremental Thickness Gauge with a light brush-like movement. Slight tactile resistance will be felt when the appropriate amount of enamel has been removed. To avoid false readings, it is very important to not force the gauge into the space when measuring.
Sterilization
During sterilization, care should be taken to keep the Incremental Thickness Gauge and dissimilar metals from coming into contact with each other in order to prevent potential oxidation. Suitable sterilization methods are dry heat, or steam heat autoclave, or chemiclave.
The ContacEZ Incremental Thickness Gauge (Item Number: 208295) is available as a ring of six different sizes: 0.10mm, 0.20mm, 0.25mm, 0.30mm, 0.40mm & 0.50mm.