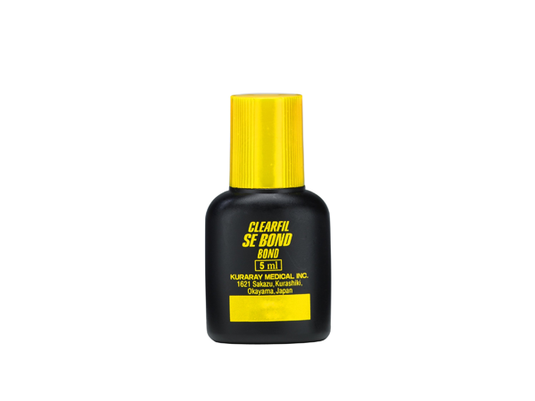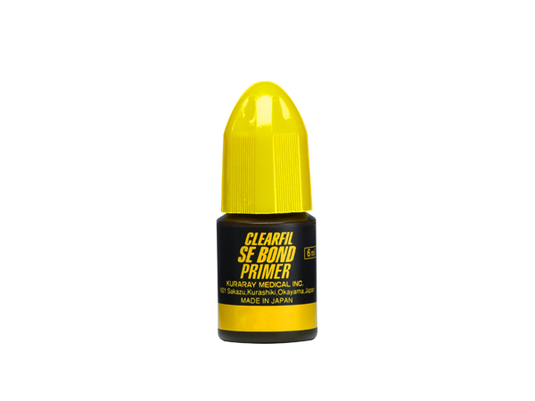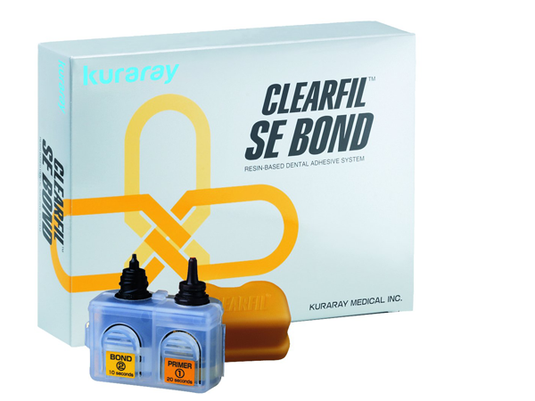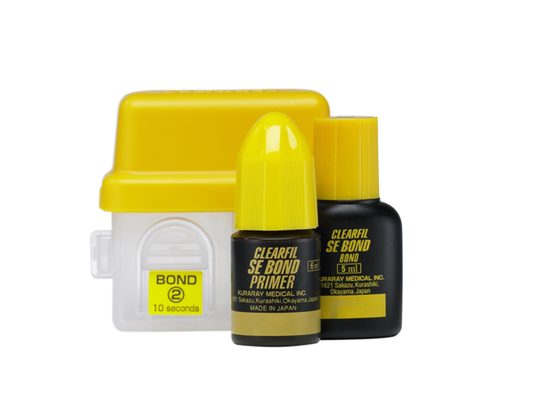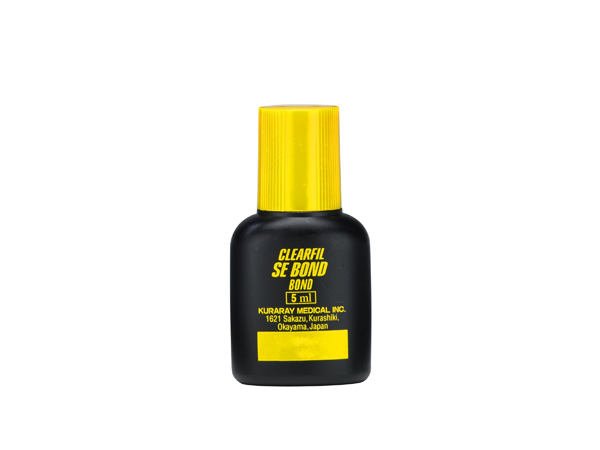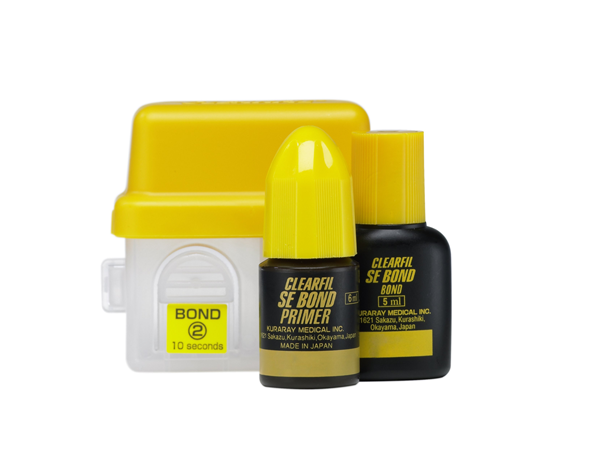 Product Details

Clinical Technique

Technical Details

Configurations

Resources
Kuraray, after inventing the self-etching technique with Clearfil Liner Bond 2 in 1993, has surpassed their universally accepted total-etch technology with a new product — a new-generation self-etching primer and bonding system called Clearfil Bond.
Clearfil SE Bond is a simplified, light-cure bonding system containing a water-based primer. The procedure time with Clearfil SE Bond is significantly reduced, while providing enhanced bond strength and sealing properties — and, it can be used with all light-cured restoration. The unique "Outer Case" delivery system allows direct finger control of the contents. Other features and benefits include:
Universal Clinical Applications with New Clearfil DC Activator
New Catalyst System for Stronger Bond Strengths.
Exceptional, Unparalleled, Long-Term, Class-V, Clinical Research with CLEARFIL Self-Etch Products (5 Year – 10 Year Recalls 91% – 100% Retention)
Low Film-Thickness with Indirect Restorations
Ideal Bulk-Fill Adhesive (Absorbs Stress & Maintains Seal on Dentin)
Ideal Adhesive Layer For Direct Restorations
No-shaking, No-mixing, No-scrubbing, No Multiple Applications
SE Primer 2 Treats Zirconia & Alumina Restorations
No Light-Curing Inside of Indirect Restorations
Direct Restoration
*Before applying the Primer, selective enamel etch by phosphoric acid is an option.
Apply Primer and leave for 20 seconds*. Do not rinse.

Dry with mild airflow for 5 seconds.

Apply Bond.

Make a uniform bond film using a gentle airflow.

Light-cure.

Apply and light-cure composite.
Indirect Restoration
*Before applying the PRIMER, selective enamel etch by phosphoric acid is an option.
**Light-curing the mixture is an option for optimum performance.
Condition the surface of the prostethic restorations following the instructions for use of the restorative material.*

Apply Primer and leave for 20 seconds. Do not rinse.

Dry with mild airflow for 5 seconds.

Apply the mixture of Bond and Clearfil DC Activator.**

Dry with mild airflow for 5 seconds. Light-curing is optional.

Cement using an adhesive resin cement.
Two components, two steps
Clearfil SE Bond is composed of two single liquids: a mild self-etching primer with a low technique sensitivity and a light-curing bonding agent with a high sealing ability. It is indicated for:
Durable marginal seal
Powerful hydrolysis resistance for a durable marginal seal: This is offered by Clearfil SE Bond thanks to three features:
The MDP monomer forms a stable chemical bond between adhesive and tooth structure – resistant to hydrolysis.
Mild self-etching ensures that the hydroxylapatite is not completely removed from the collagen fibers, protecting them from hydrolytic degradation.
The bonding agent's low water sorption further strengthens the marginal seal in the long term.
In this way, the risk of secondary caries is minimized.
Minimal post-operative sensitivities
In Clearfil SE Bond, the mild self-etching primer ensures that irritation caused by moving dentinal fluid is minimized. When the higher viscosity bonding agent is applied on top of the primer, a strong and stable bond layer is created. This layer excellently seals the dentinal tubules, so that occlusal stress caused by potential movement of dentinal fluid is prevented. The result: Minimal postoperative sensitivities.
Simplified application
With Clearfil SE Bond, neither a separate acid etching nor a rinsing step are necessary. Additionally, less attention to the surface moisture level has to begiven: The risk of over-wetting or over-drying of thepreparation is very low e.g. compared to wet bonding systems. This leads to a low technique sensitivity and simplified application requiring only a few steps:
MDP. What else?
Clearfil SE Bond 2 contains the Original MDP Monomer, an essential component of any adhesive product from Kuraray Noritake. Having been in use for more than 35 years, MDP offers a proven excellence in adhesion. The hydrophilic group of the adhesive monomer forms a strong chemical bond with calcium and hydroxylapatite. Since hydroxylapatite crystals remain in the hybrid layer after mild self-etching, a stable hybrid layer is formed by the adhesive. In addition, a strong bond to enamel is ensured.
Clearfil SE Bond Value Kit (Item Number: 606901):
3 x Primer 6 mL
3 x Bond 5 mL
2 x Brush holders
1 x Mixing dish
1 x Light-blocking plate
1 x Outer Case
6 x Disposable brush tips (50 pcs.)
Clearfil SE Bond Kit (606900):
1 x Primer 6 mL
1 x Bond 5 mL
2 x Brush holders
1 x Mixing dish
1 x Light-blocking plate
1 x Outer Case
2 x Disposable brush tips (50 pcs.)
Clearfil SE Bond Refill (606501): 5 mL bottle
Clearfil SE Bond Primer Refill (606502): 6 mL bottle
Product Information
Product Technique Documents
Technical Documents