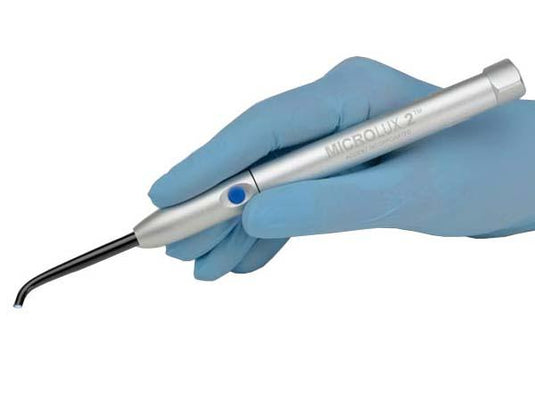 Product Details

Clinical Technique

Testimonials

Configurations

FAQ

Resources

Accessories
The Microlux 2™ Transilluminator from AdDent is used for detecting anterior and posterior caries. It also helps to visualize crown fractures, root canal orifice, and root fractures often without the need for X-rays. An easy-to-use push-button controls the dual intensity operation and provides for better visualization. The battery has a low-level indicator and the unit has a voltage regulator to ensure constant light output. It uses two easily available AAA batteries. The Microlux 2 comes with either a 2 or 3mm light guide and accepts all existing Microlux autoclavable attachments. Other features and benefits include:
Available with 2mm or 3mm glass light guides
Slim ergonomic design
High & low output levels
Easy handling and one-finger operation
Constant light output
Conveniently located control button
Better visualization (high setting), better photos (low setting)
Multiple applications with one device
Accepts all existing Microlux attachments
Auto turn off after 7 minutes for battery conservation
Advanced notification to change the battery
Dental Transillumination Examples of Use:
Identifying Proximal Posterior Caries
Photos courtesy Howard E. Strassler, DMD
Revealing Anterior Fractures
Photos courtesy Mark L. Pitel, DMD
"The Microlux is one of the most important illumination devices available to enhance viewing of dental tissues. I use the Microlux on every patient in which I have to evaluate tissue, including, initial exams, hygiene exams, emergencies, and clinical procedures. When used in its designed transillumination mode, many defects in teeth, which cannot be detected by direct illumination or with radiographs, can be visually identified. Using dental magnification and the Microlux in direct illumination, health and diseased tissues, dental defects, deposits, can more clearly be visualized. Evaluating restorations, both during preparation and placement and existing restorations are enhanced using direct illumination with the Microlux. I feel the Microlux is an integral device to evaluate dental tissue and should be used routinely in patient care."
James R. Dunn, DDS, Auburn, CA
"Every practice should have the Microlux 2 as part of their diagnosis protocol. It is a great adjunct to radiographs or as a stand-alone option to evaluate suspect areas."
Dr. Douglas Lambert, Edina, MO
Microlux 2 Transilluminator w/ 2mm Tip (Item Number: 436501):
1 x Microlux 2 Transilluminator
2 x AAA Batteries
Microlux 2 Transilluminator w/ 3mm Tip (436500):
1 x Microlux 2 Transilluminator
2 x AAA Batteries
Q: Why is this measured in foot candles instead of the way we would measure curing lights in mW/cm²?
A: Photometric measurement (foot candles) is the way visible light is measured because that is the way the human eye sees light. Curing lights are measured in radiometric units (mW/cm²) and cannot be compared to photometric measurements.
Q: What is the battery life?
A: About 5 hours of continuous use.
Q: What type of battery is used in the Microlux?
A: Two 1.5 Volt AAA Batteries
Q: What is the life of the LED?
A: Over 50,000 hours (Lifetime usage)
Q: Is LED replaceable?
A: Yes
Q: Can the Glass Light Guide be Autoclaved?
A: Yes, the Glass Light Guide can be autoclaved. It can also be cold sterilized too.
Q: How long is the warranty on the Microlux?
A: 1 Year warranty
Q: What is the difference between the Standard Glass Light Guide P/N 630003 and the Micro Tip Glass Light Guide P/N 600045?
A: The diameter on the Micro Tip Glass Light Guide is 2mm instead of 3mm and allows doctors to better see proximal caries on posterior teeth.
Q: What is the Microlux Protective Sleeve?
A: The Microlux Protective Sleeve covers the light guides to protect the patient from bacteria and cross contamination without having to sterilize the unit or light guide with each use. The Microlux Protective Sleeve is disposable.
Q: Can Microlux be used in curing composites?
A: No, the Microlux is only for transillumination.
Attachments available for the Microlux 2 Transilluminator include: