Are Your Crown Preps Prepped Enough?
A Few Tricks to Ensure Adequate Occlusal Reduction
If you practice restorative dentistry, chances are you've under reduced your crown preps before—maybe more times than you'd care to admit. It happens!
Have you ever received a phone call from your laboratory technician with the dreaded news that you didn't reduce one of your crown preps enough? I would be so bold as to say that those of us who practice restorative dentistry have all gotten that news at least once. Some of us have gotten that news more than we would like to admit.

PrepSure crown prep guides (ContacEZ) are autoclavable plastic instruments designed to confirm ideal tooth preparation for crowns and onlays. These instruments come in a pack of three: 1 mm, 1.5 mm, and 2.0 mm reduction. One side measures the mesial half of a preparation, and the other side measures the distal half of the preparation. The measuring tip can be placed into reduction grooves to ensure proper reduction, or it can be placed between the prepared tooth structure and the opposing tooth after occlusal reduction has taken place. There is a bend in the shank of the instrument, which facilitates measuring all aspects of the preparation. The PrepSure crown prep guides are intended to glide between the prepared and opposing tooth structure. If a PrepSure guide doesn't glide passively, more preparation is needed. This is a positive feature of this instrument, as other methods may require interpretation. An additional feature is that a guide can be rested against the axial walls of the preparation to evaluate axial reduction.

Pros:The PrepSure crown prep guides are autoclavable and can be easily adapted to a crown preparation to ensure proper tooth structure reduction for restorations made from a variety of materials. They can be positioned to evaluate occlusal reduction on partial-coverage restorations. They can evaluate both occlusal and axial reduction.

Cons: Although their cost is reasonable, these instruments may need replacement after approximately 25 uses.

We have a variety of dental materials at our disposal to fabricate natural-looking, long-lasting restorations. Various materials require a specific thickness and preparation design, and the longevity of many of these materials is dependent on the design of the preparation, including occlusal reduction. Utilizing tools to ensure adequate tooth reduction will help us offer patients beautiful restorations that provide longevity.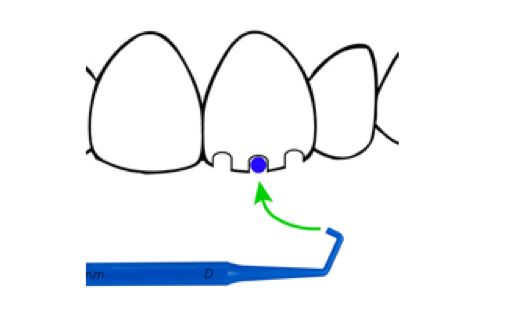 For anterior crowns, place the tip of the appropriate PrepSure size for the material being used into your incisal depth cuts. By comparing against that adjacent, uncut tooth structure, you can easily ensure adequate clearance will be made.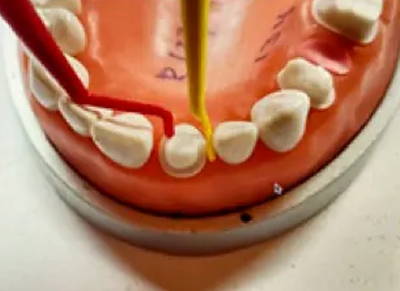 The tips can also be used to check that adequate space has been prepared at the margin, as well as that the gingival margin is adequately spaced from the adjacent tooth (image courtesy of Patrick Roetzer, DDS, FICD, FACD).
More Ways to Use PrepSure for Perfectly Accurate Crown Preps Contributed by ContacEZ

Especially in a year like this one, getting the most out of your time and materials so you can give the best possible restorations to your patients is absolutely vital. When providing crowns, no doctor or patient wants the added time and expense of needing an additional appointment for a second impression, nor does either want to see a crown fracture far too soon because it was made thin and fragile. This is why it is always so important to make sure your crown preps are accurate with PrepSure.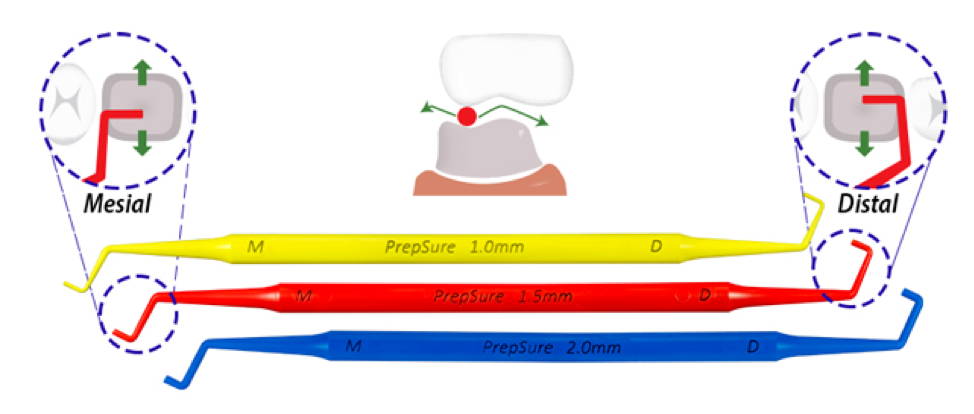 While we mostly talk about PrepSure as a way to ensure adequate occlusal clearance on crown preps, it can be just as helpful in confirming the accuracy of the other aspects of your preps as well. By using the precisely measured PrepSure tips in your depth cuts and against your margins, you can simply and easily expand the usage of these already helpful instruments. In doing so, you can get more functionality out of PrepSure, helping you give more accurate results when prepping for crowns.

Used with permission from dentistryiq.com, Oct 23, 2017.