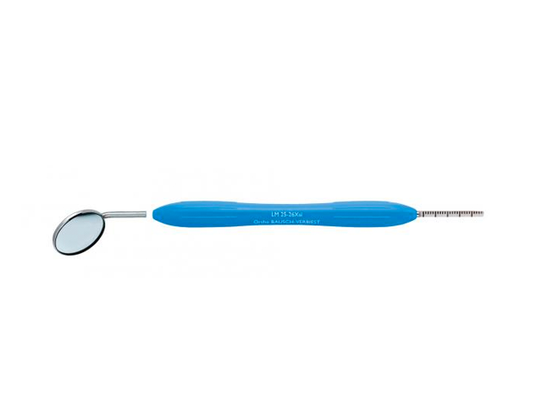 Product Details

Configurations

Resources
Designed for measuring the sagittal overjet and vertical overbite. Bausch-Verbiest design. Can be used with LM-OrthoSizer. Millimetre scale, total length 25 mm. Mirrors are sold separately.
LM 25 mirror handle threads are in accordance with international standard M2.5. The mirror shank must have a diameter of 2.5 mm.
Crafted in Scandinavia, LM Instruments set the standard for functionality, ergonomics, and comfort. They are lightweight, have a non-slip grip, and deliver exceptional tactile feel.
All LM's handles are exceptionally ergonomic due to the elastic silicone coating and optimized contouring, and the instrument's name and code number is imprinted on the handle for quick and easy identification.
Independent research studies also found that the wear resistance of LM curettes is significantly higher than any other dental hand instrument – whether sharpened regularly or not sharpened at all! The reason is that LM uses DuragradeMAX super-steel to deliver unrivalled sharpness and longevity.
LM 25-26XSI Mirror Handle Ortho (Item Number: 390206)
LM 10P12 Ortho Mirror Attachment 12-pack (390215)