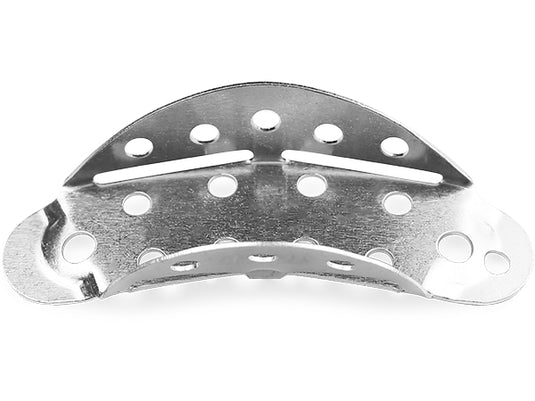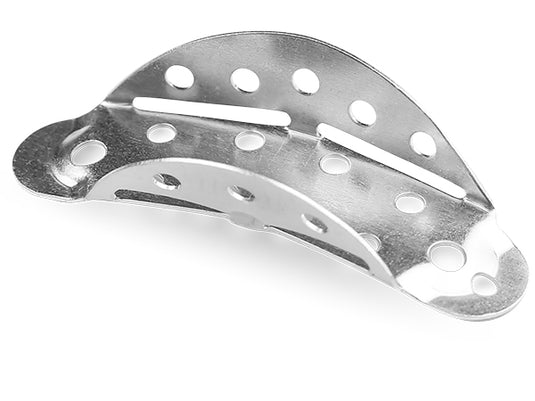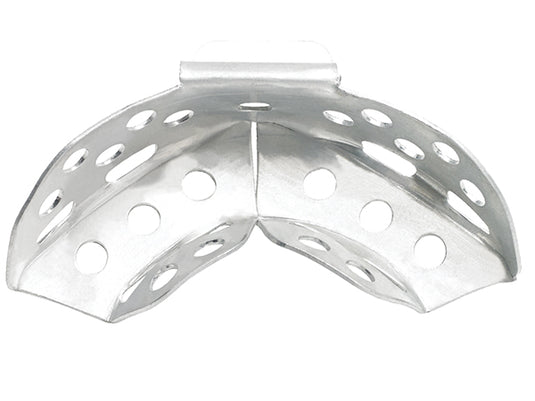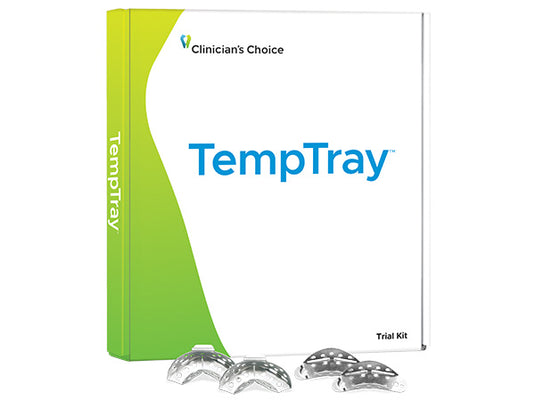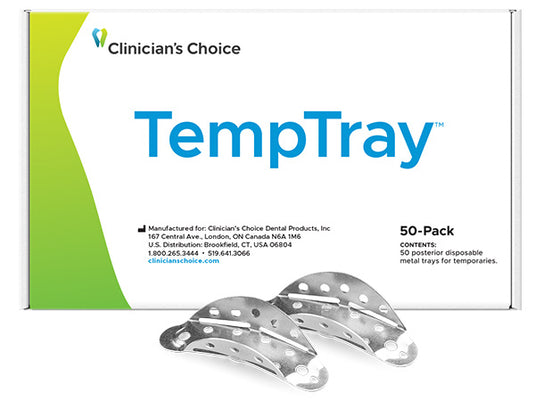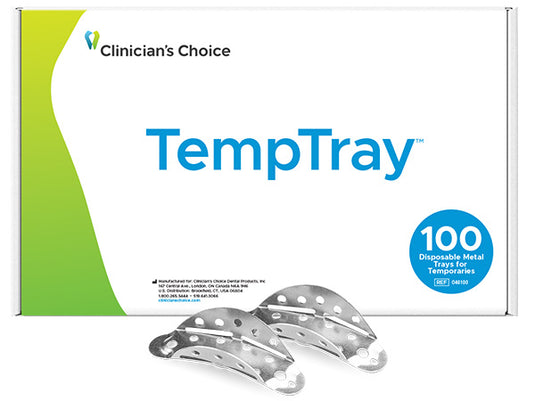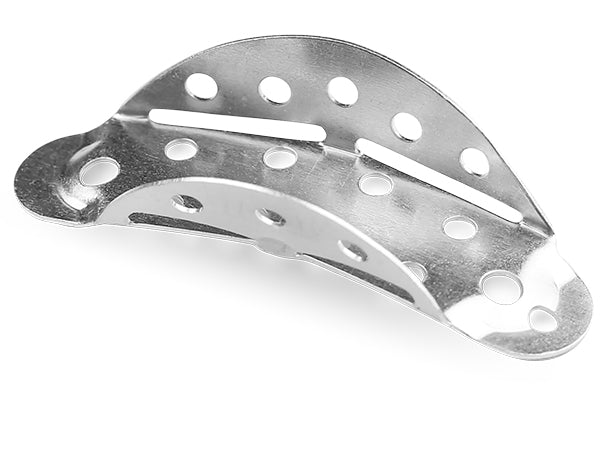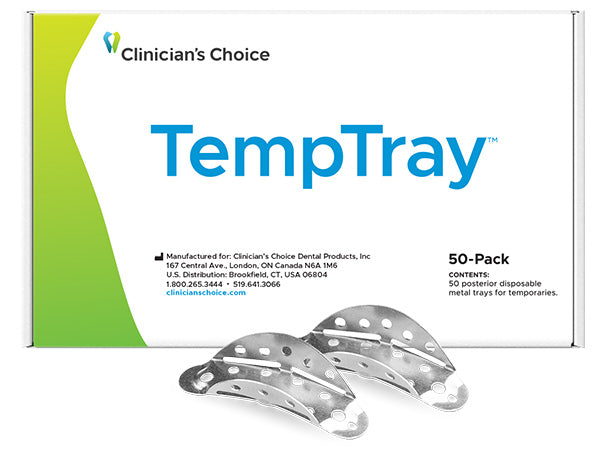 Product Details

Clinical Technique

Video

Configurations

Resources

Accessories
Designed for accuracy, Clinician's Choice TempTray™ is a distortion-free, disposable, metal temporary tray with extreme versatility. TempTray is available in anterior and posterior variations for use in either upper or lower arch. The sidewalls of the tray are high to encompass virtually any crown length.
TempTray ensures a perfect matrix in a single take. Designed for sectional arch impressions, TempTray is not prone to the distortion commonly associated with insertion and removal of a plastic dual-arch tray.
TempTray is customizable, rigid, and versatile. Simply widen or narrow the sidewalls to suit your patient's particular arch dimension and/or misaligned teeth. Perforated walls stabilize and retain the matrix material. Removal is easy thanks to TempTray's quick grip lip.
Combine TempTray with Template Ultra Quick Matrix Material for the most efficient method of making a matrix for temporary crown and bridge fabrication.
Provisional Crown Technique
Dentistry and photography courtesy of Dr. Gildo Santos and Dr. Brad Carson
Load the posterior TempTray with Template Matrix Material and place intraorally.

Once seated, Template's intraoral set time is approximately 30-45 seconds.

Express a small amount of Inspire Esthetic Provisional Composite through the syringe tip onto a mixing pad. Load Inspire into the Template matrix, keeping the tip submersed. Inspire has a 40-second working time.

Reseat the matrix with Inspire in the mouth immediately. Remove the matrix from the mouth as soon as Inspire is firm but not completely set. The provisional crown will often remain in the Template matrix.

Express Cling2 Temporary Cement directly into the provisional crown. Seat the provisional crown within the 30-second working time. After a 60 to 90 second setting time, remove excess Cling2 from the preparation margins.

The result is a strong, durable, esthetic Inspire provisional crown.
Anterior Provisional Restoration using Anterior TempTray™
Dentistry and photography courtesy of Dr. Robert A Lowe
Pre-op photo of an existing, unesthetic, anterior bridge to be replaced.

Load the customized Anterior TempTray with Template Matrix Material and place intraorally within the 30-second working time.

After only 30 seconds, remove the tray from the mouth. The result is an accurate and detailed matrix.

The use of Inspire Esthetic Provisional Composite in combination with the Template matrix results in a strong provisional restoration with minimal flash for ease of finishing.

Line the Inspire Provisional with Cling2 Temporary Cement and seat on the prepared teeth within the 30-second working time. After 60 to 90 seconds, the excess cement is ready to be removed.

The completed anterior Inspire provisional restoration: strong, durable and esthetic.
Clinician's Choice Anterior and Posterior TempTrays™ are included in the Inspire Complete Provisional System that solves common clinical challenges with proven products for each step of the provisional technique.
Trial Kit (Item Number: 046152):
50 x Anterior TempTrays
50 x Posterior TempTrays
Posterior TempTrays:
50-Pack (046050)
100-Pack (046100)
250-Pack (046102)
Anterior TempTrays:
50-Pack (046150)
100-Pack (046151)