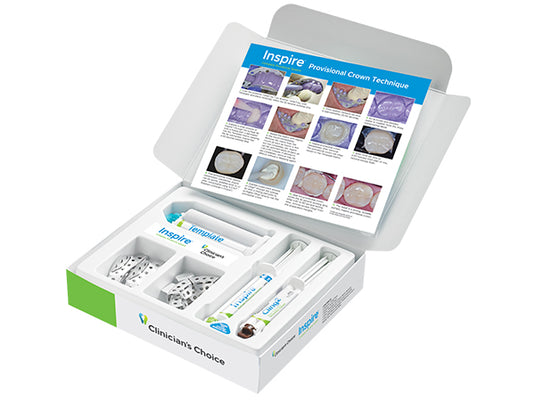 Product Details

Clinical Technique

Video

Kit Contents

Resources
The Inspire™ Complete Provisional System is designed for step-by-step procedure predictability, reliability and efficiency to create the most esthetic and long-lasting provisional restorations.
The Inspire system kit includes clinically proven products for each step of the provisional technique - products that were designed to solve very specific clinical problems. The result is a simple and efficient technique to provide you and your patients with esthetic, functional and long-lasting provisional restorations, fabricated in a fraction of the chair time.
Inspire Provisional Crown Technique
Dentistry and photography courtesy of Dr. Gildo Santos and Dr. Brad Carson
Load the posterior TempTray with Template Matrix Material and place intraorally.

Once seated, Template's intraoral set time is approximately 30-45 seconds.

Express a small amount of Inspire Esthetic Provisional Composite through the syringe tip onto a mixing pad. Load Inspire into the Template matrix, keeping the tip submersed. Inspire has a 40-second working time.

Reseat the matrix with Inspire in the mouth immediately. Remove the matrix from the mouth as soon as Inspire is firm but not completely set. The provisional crown will often remain in the Template matrix.

Express Cling2 Temporary Cement directly into the provisional crown. Seat the provisional crown within the 30-second working time. After a 60 to 90 second setting time, remove excess Cling2 from the preparation margins.

The result is a strong, durable, esthetic Inspire provisional crown.
The Inspire Complete Provisional System solves common clinical challenges with proven products for each step of the provisional technique.
Temporization using the Inspire Complete Provisional System.
Inspire Complete Provisional System (Item Number: 152720):