Predator Zirconia - Diamond Bur Kit*
Product Description

Predator® Zirconia
Maximum Cutting Efficiency with Less Force Through Tough Zirconia
Zirconia is gaining in popularity as a crown restorative material because of it's superior strength and excellent esthetics. Until now, cutting/removing, trimming or adjusting sintered Zirconia has been an unpredictable and time consuming task. To date it often takes multiple diamond burs to access or remove a Zirconia based restoration. When using a traditional diamond bur to cut Zirconia restorations, tremendous force is required generating significant heat build-up. This heat build up melts the nickel plating that holds the diamond particles to the bur shank, resulting in poor cutting efficiency and the need to use multiple burs. Now Predator® Zirconia provides the solution when dealing with tough Zirconia.
Unique Manufacturing Process
Predator Zirconia diamond burs are manufactured using a robust bonding technology process that provides maximum cutting efficiency and effortless access through tough Zirconia for both endodontic treatment and crown removal. Each bur has a unique black protective coating which insulates the nickel plating ensuring a significant reduction in friction and heat build-up while ensuring superior cutting efficiency by allowing the diamond particles to remain bonded to the bur shank. Often only one Predator Zirconia bur is required to access or remove a Zirconia based restoration. . These unique burs have been clinically proven to cut with 41% less force than leading competitors.
Natural Versus Synthetic Diamonds
Only premium natural diamond crystals are used on Predator
Zirconia
which ensures superior penetration with low vibration resulting in a smooth finish on
Zirconia
. The diamond particles have sharper cutting edges and are orientated to the most effective cutting angles to expose more cutting surfaces to ensure maximum performance, greater efficiency and superior longevity.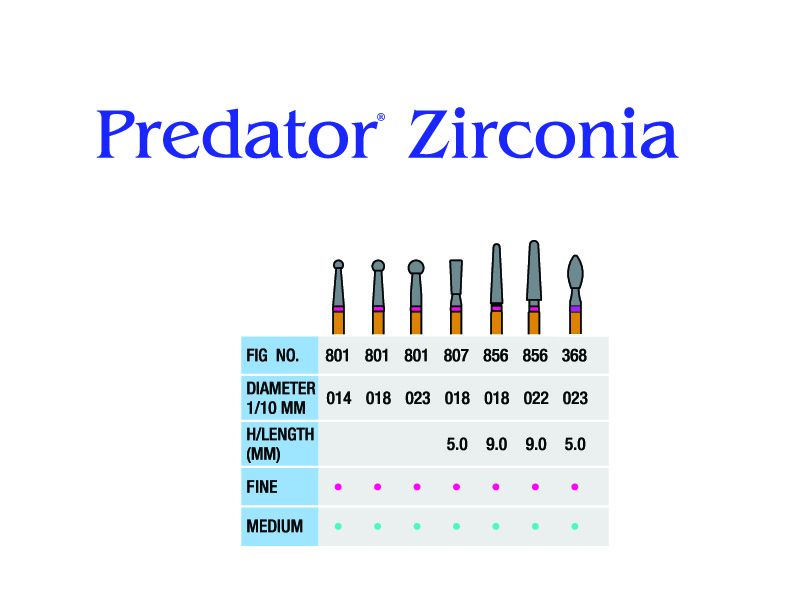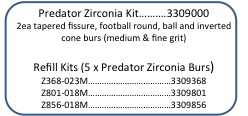 ---
Find Similar Products by Category
---
Customers Who Viewed This Product Also Viewed