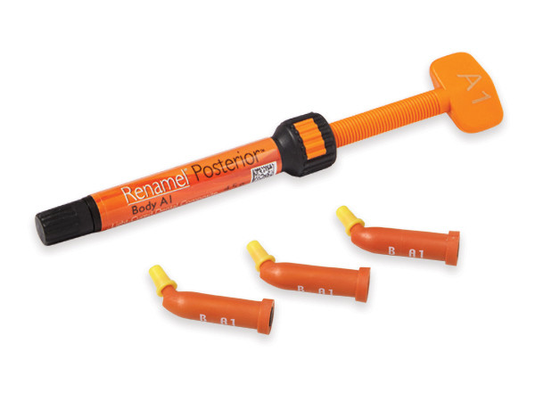 Product Details

Clinical Technique

Configurations

Resources
Renamel® Posterior Composite is designed for high-strength posterior restorations. This packable composite can be compressed similarly to amalgam, making placement using routine amalgam techniques possible. Renamel Posterior Body is easy to work with and it is very wettable due to its resin base. Other features and benefits include:
High strength due to large filler particles
Condenses like amalgam
Workable consistency
Very wettable due to its unique resin base
Colour coordinated to the complete Renamel System and the VITA Classic shade guide so you can build-up all your restorations in one shade

Indications for Use
Renamel Posterior is indicated for use in Class I and Class II posterior restorations.
Class I Clinical Case (Before)
Class I Clinical Case (After)
Renamel Posterior 0.25 g Compules (10-pack) are available in the following shades:
A1 (Item Number: 566501)
A2 (566503)
A3 (566505)
Renamel Posterior 4.5 g Syringes are available individually in the following shades: