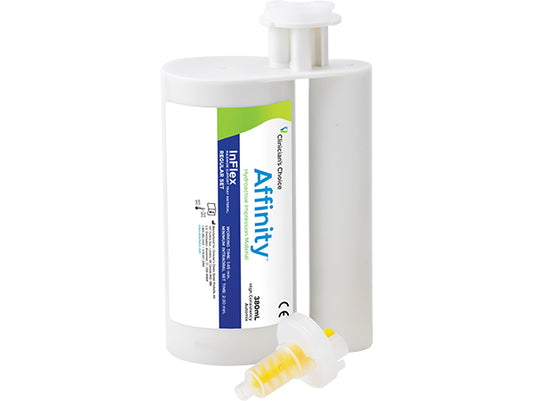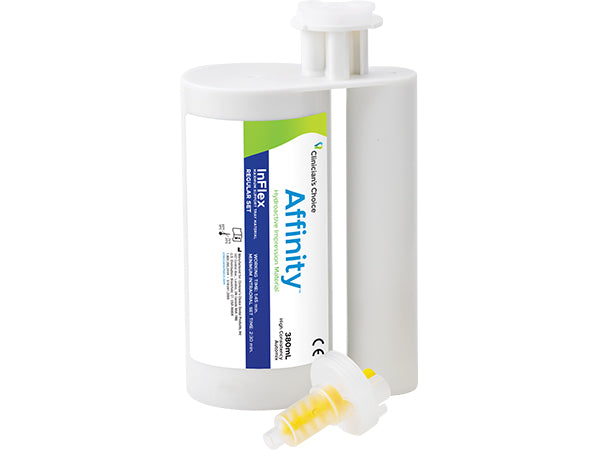 Product Details

Clinical Technique

Technical Details

Testimonials

Configurations

FAQ

Resources

Accessories
Affinity™ InFlex Maximum Support Tray Material is the only support tray material designed for the dual-arch impression technique and specifically to prevent the impression distortion so commonly associated with this technique.
InFlex is specifically designed for the dual-arch impression technique. Once cured, InFlex is rigid, preventing the distortion often caused by rebound and the elastic memory of plastic trays. If a sideless tray is used, InFlex becomes the side-wall upon curing and will not distort during model pouring.
InFlex flows slightly more than a heavy body and much more than putty, resulting in ideal hydraulics, easily driving the Light Body into the sulcus around the prep site and adjacent dentition. InFlex will not over-displace the Light Body as heavy body and putty will, so enhanced accuracy is virtually guaranteed, resulting in a final restoration with accuracy in both fit and occlusion.
Affinity InFlex Maximum Support Tray Material is part of the Affinity line of impression materials that combine a unique branched resin, more refined filler and even distribution of surfactant for enhanced accuracy.
Affinity impression materials feature:
Enhanced hydrophilicity for excellent performance in the presence of moisture, especially with subgingival preparations
Matched fluid states between the tray and wash materials better capture the preparation site
100% cure to a dense supportive state, which translates to higher tear strength and dimensional stability
Affinity InFlex is available in regular set for multiple impressions and fast set for single preparations
Also available in 120 mL PowerMix and 380 mL MegaMix cartridges for automix dispensing
Full Quadrant Impression using Affinity InFlex, Affinity Light Body RF and Quad-Tray XL
Dentistry and photography courtesy of Christopher Ramsey, DMD
Affinity InFlex Maximum Support Tray Material is loaded onto both sides of a Quad-Tray XL.

After syringing Affinity Light Body RF (Regular Flow) around the inlay preparation and implant site, the Quad-Tray XL encompasses the full quadrant.

Perorated buccal wall locks impression material to the tray.

InFlex flows through the Quad-Tray XL's slotted lingual and buccal walls to lock the impression material and tray together.

Notice how InFlex has displaced the Light Body without over-displacing it from the prep sites.

Precise detail is achieved every time.
Dual-Arch impression using Affinity Light Body HF, Affinity InFlex and Quad-Tray Xtreme
Dentistry and photography courtesy of Dr. Brad Carson.
With tissue management and hemostasis achieved using Tissue Goo Hemostatic Gel, the preparation is cleaned with Detail Pre-impression Cleansing Gel to remove any residual debris and hemostatic agent ensuring complete polymerization of the Affinity InFlex VPS tray material and Affinity Light Body VPS material.

The Affinity Light Body impression material is placed after the Re-Cord #00 cord has been carefully removed, making sure to keep the tip submerged.

After InFlex is loaded sufficiently into the Quad-Tray Xtreme, the tray is placed immediately. The patient is asked to passively close. If no segmental bite registration has been taken prior to the impression, the patient may need to be guided into position.

While holding the tray firmly at the base of the handle, gently rock the impression material until it releases. Never torque the handle of the tray to prevent bending of the aluminum body.

The final impression showing excellent capture of the margins as well showing that the Light Body was not displaced by the hydraulics of the InFlex. This ensures a more accurate die and better fit of the final restoration.

Due to the accuracy of the impression, the final ceramic restoration fit beautifully with little adjustment required.
"​The Affinity line of products are an indispensable part of my restorative practice. The quality and flexibility of the entire line gives me great confidence in my crown and bridge procedures."
Dr. Robert G. Ritter – Jupiter, FL
To purchase in bulk quantities or bundle with other impression materials and save money per cartridge you can build a Spectrum Pack here:
Affinity InFlex Regular Set 2-Pack (Item Number: 022400):
2 x 50 mL cartridges
Mixing tips
IFU / SDS
Affinity InFlex Fast Set 2-Pack (022405):
2 x 50 mL cartridges
Mixing tips
IFU / SDS
Affinity InFlex Regular Set 12-Pack (012912):
12 x 50 mL cartridges
IFU / SDS
Affinity InFlex Fast Set 12-Pack (012952):
12 x 50 mL cartridges
IFU / SDS
Affinity InFlex Regular Set 380mL MegaMix (012380):
1 x 380 mL cartridge
IFU / SDS
Affinity InFlex Fast Set 380mL MegaMix (012385):
1 x 380 mL cartridge
IFU / SDS
Affinity InFlex Regular Set 120mL PowerMix (022401):
2 x 120 mL cartridge
6 x PowerMix mixing tips
IFU / SDS
Affinity InFlex Fast Set 120mL PowerMix (022406):
2 x 120 mL cartridge
6 x PowerMix mixing tips
IFU / SDS
Q: What are the working and set times of both Affinity regular set viscosities and fast set?
A: The working time of Affinity Regular Set material is 1:45 mins with a setting time of 2:30 mins.
Affinity Fast Set materials have a working time of 1:10 mins and a set time of 1:45 mins.
Q: How is Affinity different from other impression materials?
A: Only Affinity uses branched resin chemistry for 3-dimensional cross-linking resulting in a higher tear strength, refined fillers, and an even distribution of surfactant. Other impression materials use linear resin chemistry with an uneven distribution of surfactant resulting in less accurate impressions that are more prone to tearing of the thin interproximal and sulcus fins.
Q: I'm having difficulty loading Affinity InFlex into Quad-Trays. Are there any tips that will help?
A: It is important to work quickly when loading Quad-Trays. Dispense Affinity InFlex in an S-pattern onto the non-prep side after running a bead of material around the periphery of the tray. Immediately turn the Quad-Tray over and repeat on the prep side.
Q: I really like my light body from another brand. Can I use Affinity Heavy Body (or other Affinity Tray Materials) and my light body together?
A: Light and heavy body materials from another brand may be mixed but strict attention must be paid to the working and set times as they need to mimic or exceed Affinity's.
Q: Affinity sets more quickly compared to what I was using before. What can I do?
A: If using Fast Set, switch to Affinity Regular Set impression material. Do not attempt to adjust the temperature of the material in order to slow down the set.