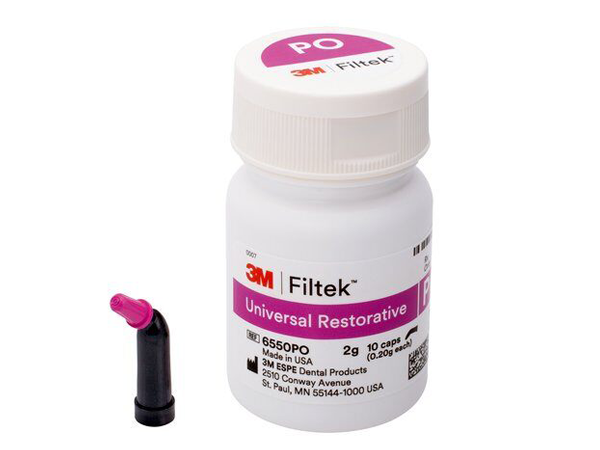 Product Details

Clinical Technique

Technical Details

Video

Configurations

Resources

Accessories
The 3M™ Filtek™ Universal Restorative is a universal composite designed to simplify single-shade restorations, for efficient restorations that don't compromise esthetics.
With just eight designer shades and an Extra White, the 3M Filtek Universal Restorative covers all 19 VITA classical shades and bleach shades. It features NaturalMatch technology, a combination of nanofillers, low-stress monomers and pigments, for more natural blending with dentition. Nanocomposite technology provides improved strength, polish and esthetics, and improved radiopacity helps you clearly see the composite on a radiograph. The 3M Filtek Universal Restorative is part of the 3M Filtek Brand of composites, trusted by dentists for over 50 years to deliver more than 1 billion dental restorations. Other features and benefits include:
Creates beautiful, natural-looking restorations with just eight shades
Available in eight designer shades that match all 19 VITA classical shades and bleach shades*
Blends with surrounding dentition with a chameleon-like effect
Features NaturalMatch technology, a blend of nanofiller, low-stress proprietary monomers, and pigments
Formulated with proprietary low-stress monomers to help protect against shrinkage and shrinkage stress
2 mm depth of cure
Has excellent, creamy handling
Long-lasting polish and wear resistance
Indications for Use
Direct anterior and posterior restorations
Core build-up
Splinting
Indirect restorations including inlays, onlays and veneers
*Source: 3M Internal Data
21st-century Class III restoration using a Bioclear Matrix with injection molding
Click here to view the 3M 21st-century Class III restoration using a Bioclear Matrix with injection molding case by Dr. Richard Young.
Solve 6 of your Biggest Challenges
With rising patient expectations, dentists must create esthetic restorations without losing efficiency. By using Filtek Universal Restorative to overcome these 6 common challenges, you can more simply create beautiful, lasting results.
All 8 Filtek Universal designer shades plus an Extra White (XW) cover 100% of the 19 VITA classical and bleach shades.1
Expected size of the global teeth whitening products market by 2024.2
The measured shrinkage* of the 12 most popular nano-hybrid composite restoratives currently on the market.3
The increase in average patient spend on cosmetic procedures from 2015 to 2017.4
200-250% or greater considered most appropriate for composites.5
Warming lowers capsule extrusion force by 75-80%.6
1 3M Internal Data
2 Teeth Whitening Products Market Size Worth USD 7.40 Billion By 2024. (2017, August 17). Retrieved from www.hexaresearch.com/press-release/global-teeth-whitening-products-market
3 Spiller, M.S. (2012, October). Dental Composites: A Comprehensive Review. Retrieved from www.dentallearning.org/course/Composites/Dental_Composites.pdf
4 42017 State of the Cosmetic Dentistry Industry Survey. (2017). Retrieved from 2017survey.pagedemo.co
5 Thomas, R., Snigdha, S., Bhavitha, K.B., Babu, S., Ajith, A., and Radhakrishnan, E.K. Biofabricated silver nanoparticles incorporated polymethyl methacrylate as a dental adhesive material with antibacterial and antibiofilm activity against Streptococcus mutans, 3 Biotech 2018, 10.1007/s13205-018-1420-y, 8, 9
6 3M Internal Data
* Measured after five minutes of light curing
** 2.93 mmAl
Learn how to use the Push-Pull Instrument with the Spot Weld Technique, the Go/No-Go Instrument, and the two-step Rockstar Polish.
The Clark Push-Pull instrument is the "lightsaber" of tools. From teaching to actually using, the Push-Pull instrument is a must-have.
Filtek Universal Restorative Capsule (0.2g each) 10-Packs are available in the following shades:
Pink Opaquer (Item Number: 3-103280)
Filtek Universal Restorative Capsule (0.2g each) 20-Packs are available in the following shades:
A1 (Item Number: 3-103271)
A2 (3-103272)
A3 (3-103273)
A3.5 (3-13274)
A4 (3-103275)
B1 (3-103276)
B2 (3-103277)
D3 (3-103279)
Extra White (3-103281)
Filtek Universal Restorative 4g Syringe Refills are available in the following shades:
A1 (Item Number: 3-103282)
A2 (3-103283)
A3 (3-103284)
A3.5 (3-103285)
A4 (3-103286)
B1 (3-103287)
B2 (3-103288)
D3 (3-103289)
Pink Opaquer (3-103290)
Extra White (3-103292)