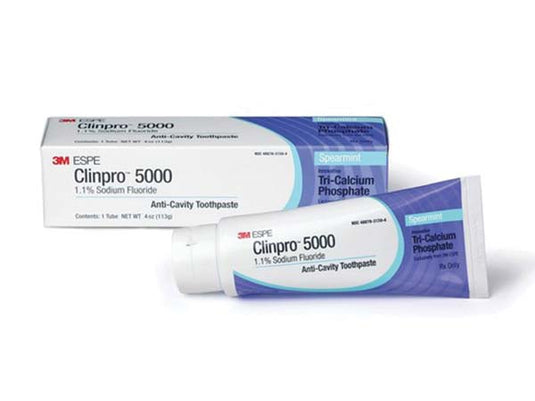 Product Details

Configurations

Resources

Accessories
Clinpro 5000 1.1% Sodium Fluoride Anti-Cavity Toothpaste is an advanced formula containing an innovative Tri-Calcium Phosphate ingredient. It contains fluoride, as well as calcium and phosphate, which are components naturally found in saliva. Clinpro™ 5000 Toothpaste delivers more fluoride, helps strengthen enamel and helps reverse white spot lesions better than other commonly used remineralization treatments, such as a conventional fluoride toothpaste (5000 ppm F-) and a topical cream containing calcium phosphate (900 ppm F-). Other features and benefits include:
Strengthens teeth and reverses white spots better than leading brands.
Contains both 1.1% sodium fluoride and innovative calcium phosphate ingredients.
Gentle cleaning, gentle whitening and low abrasion delivers desired results.
Availabel in vanilla mint or NEW spearmint flavours.
3M Clinpro 5000 1.1% NaF Toothpaste (Item Number: 3-109101): vanilla mint flavour, 113 g tube.
3M Clinpro 5000 1.1% NaF Toothpaste (Item Number: 3-109110): spearmint flavour, 113 g tube.