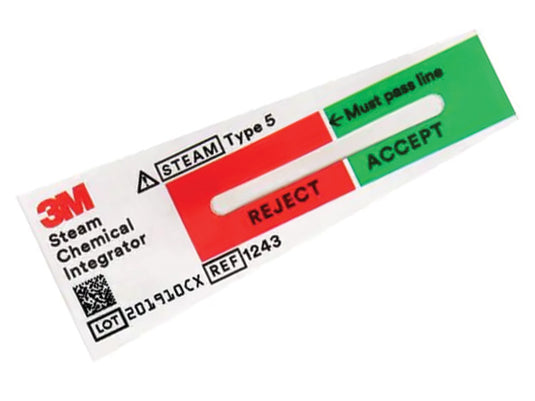 Purchase 5 for the price of 4
Product Details

Configurations

Resources
3M™ Attest™ Steam Chemical Integrators are an ANSI/AAMI/ISO 11140 1:2014 Type 5 Integrating Indicator for use in determining whether the process conditions necessary for sterilization were met inside each pack. As an internal pack monitor, the 3M Attest Steam Chemical Integrator offers an immediate, accurate and easy-to-read method of monitoring the sterilization process conditions inside each pack. Other features and benefits include:
Moving front ink technology with vibrant "Accept" (Green) and "Reject" (Red) zones for easy interpretation within seconds.
The integrator is designed to correlate with the performance of a BI at 3 time/temperature relationships*.
White/Red coloured back makes the Chemical Integrator easy to find if/when it flips over within a surgical tray (Category 5) Integrating Indicators.
Two-year shelf life.
*The stated values compare with a 1 x 106 spore population of Geobacillus stearothermophilus with a D-value of 1.6 minutes at 121˚C and a z-value of 10.0˚C.
Attest Steam Chemical Integrators come in two pack sizes:
100-Pack (Item Number: 3-107132)
500-Pack (3-107131)